Pay Attention to Unsolicited Facebook Password Reset Messages
We've seen an uptick in attacks on Facebook accounts that generate email messages like the one below. It's saying someone is attempting to reset your Facebook password in order to access your account. If you didn't ask to reset your Facebook password within the past 5 minutes, do not enter the provided code! In fact, do nothing with a message like this, since you can't easily tell if it's a legitimate message from Facebook or a phishing attack. As long as your email account hasn't been compromised, you have nothing to worry about, but consider any such messages as encouragement to have strong, unique passwords for your email account and any social media services. Also, we highly recommend turning on two-factor authentication for these accounts. Of course, if you get a second message saying that your password was reset, immediately secure your account.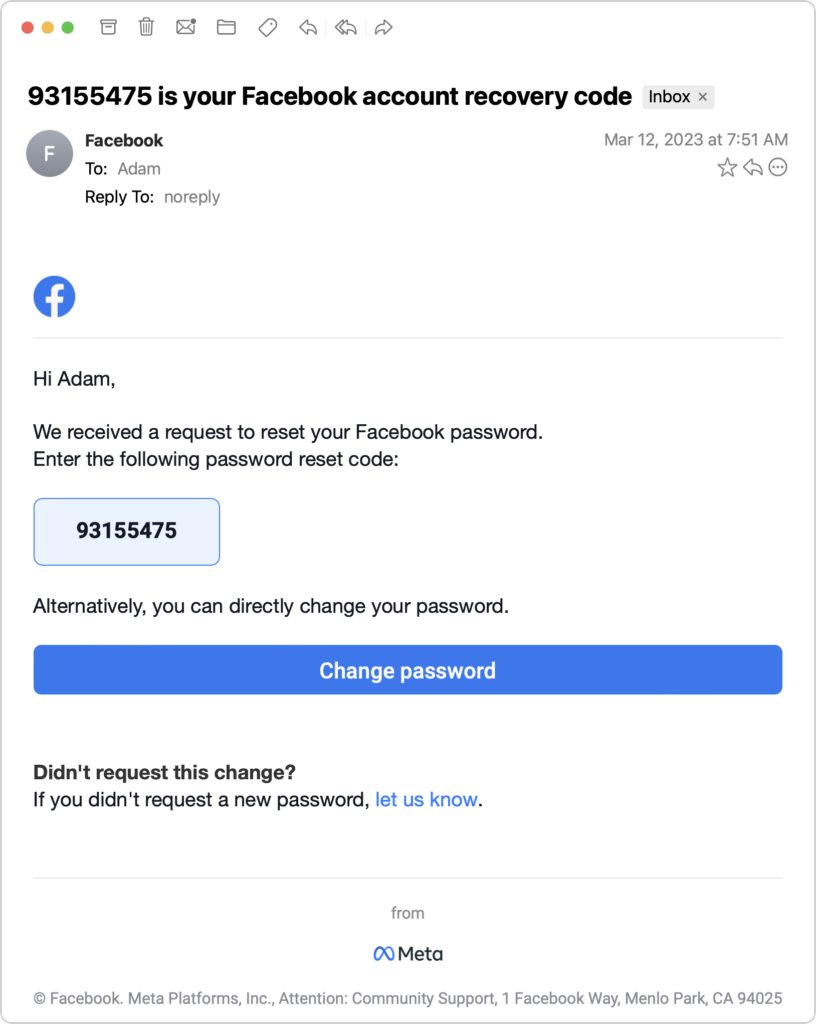 (Featured image by iStock.com/Nicholas77)
---
Social Media: If you receive unexpected password reset email messages from Facebook, don't worry—but don't click anything! Use them as encouragement to ensure your email and social media passwords are strong, unique, and protected with two-factor authentication.
https://f11photo.com/wp-content/uploads/sites/13/2023/06/Access-denied-photo.jpg
800
1280
F-11 Photo
https://f11photo.com/wp-content/uploads/sites/13/2023/06/PR-F11Photo-logo.jpg
F-11 Photo
2023-06-01 13:06:00
2023-07-03 11:57:04
Pay Attention to Unsolicited Facebook Password Reset Messages